At its most basic a Pergola is simply an outdoor structure that might or might not be attached to your house and that offers some shade. So what is the big deal and why are they so popular? As part of my research into upgrading our holiday accommodation offerings, I have rounded up the best information from suppliers but also the personal experiences of others. These are the key points that helped me make my decision.
---
The Why's?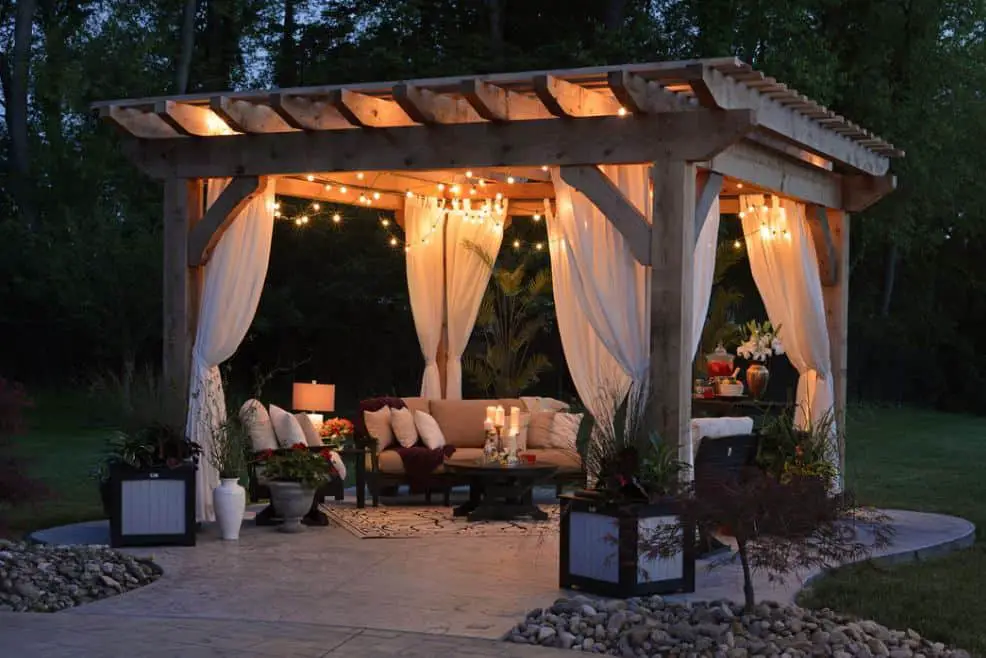 1. They extend your living space
If you enjoy BBQs, reading in a hammock, eating Al Fresco, etc then you are already someone that appreciates the great outdoors. Just like adding a patio or deck, the addition of the pergola and the shade that it offers gives you greater space outside, be it for entertaining or just relaxing.
---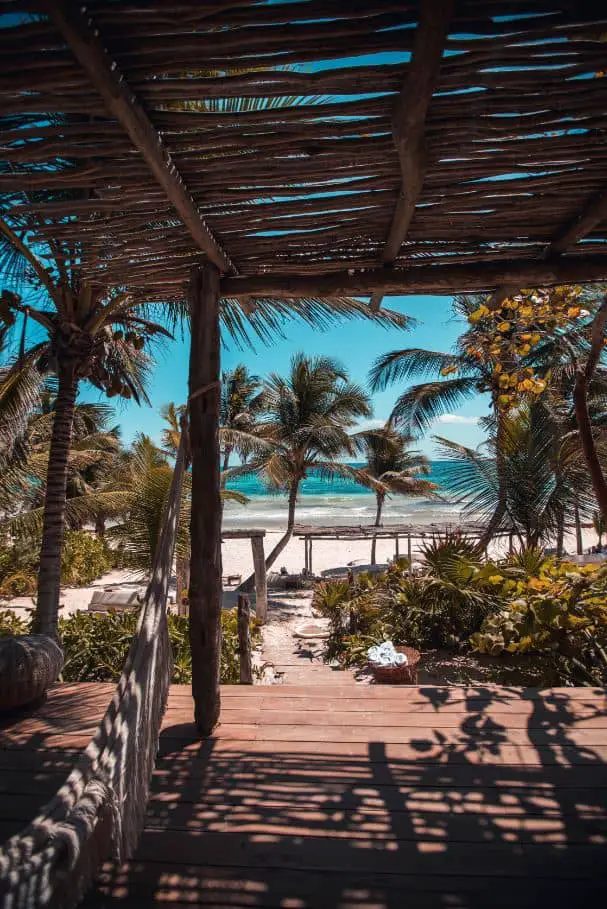 2. More time enjoying your outside space
The addition of shade doesn't just mean that you have a better time when you are outside, it also means you can be outside for longer. In most cases, the retreat indoors is due to it being too hot outside in direct sunlight. Being in the shade on a hot day can feel as though it is as much as 15 degrees cooler than standing in direct sunlight. Reducing the amount of the sun's radiation you are exposed to can have a dramatic impact not only on you personally but also on the structure of your house.
---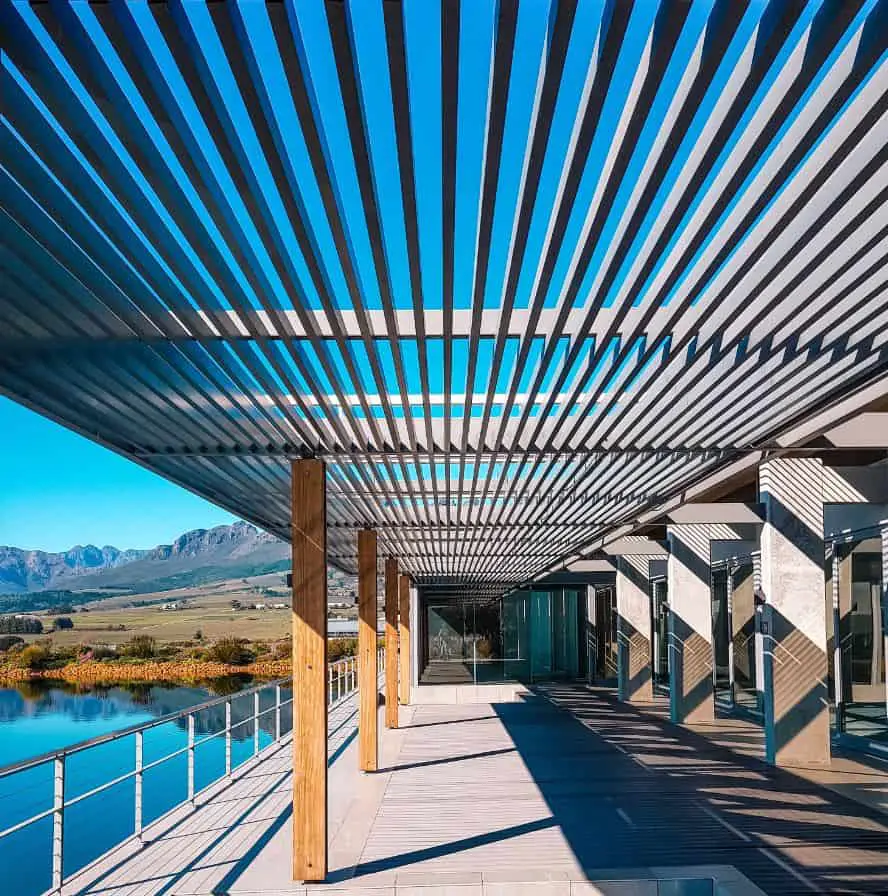 3. Cools your house
If your Pergola is attached to your house then it will be offering shade, often to a patio or deck area as well as the external walls. By keeping the walls, paved floors, tiles, etc out of direct sunlight the amount of heat that is transferred into them, which can keep an area feeling hot even when the sun is gone, will be massively reduced. Compared to the building itself and particularly patios, the materials used in Pergolas tend to have a lower thermal mass which means that when the air flows around them then can recool more easily.
---
4. Enjoy it in wider weather conditions
As an outdoor lover, you will already be well aware that mother nature doesn't always comply with our plans. I always find it surprising how often we can sit outside, considering how just a few drops of rain or even a gusty breeze can completely ruin our enjoyment. The structure of a Pergola offers a number of opportunities to add curtains, wind blocks or even rain covers to allow us greater tolerance for the conditions.
---
5. Platform for a host of accessories
The structure becomes a new form to allow you to express yourself. It might just be the addition of hanging plants and solar lights but there are also secluded speakers, outdoor TV, chandeliers over your table, etc the list is endless but with all the other benefits of a Pergola they will be used and enjoyed even more.
---
6. Costs
The cost of adding this extra 'room' to the outside of your property, according to the Homeadvisor survey averages at ~$3600. This is significantly less than a fully roofed structure and, maybe more importantly, means it is perceived differently when considering any planning permission consent.
---
7. Add Value to Your Property
There are numerous discussions as to the reality of adding value by adding a pergola. It seems that if the structure is well maintained and in good condition then a Pergola does increase the value of your property. The amount depends on your location and local demand but some kit suppliers suggest at least 50% ROI (return on investment) but they would! From looking at estate agency sites it seems that it is more important it is in keeping with the house for appearance and size and practical usability than simply assuming adding one will add value.
---
The Do's
8. Consider what its made from
The next biggest decision is if you are going to buy a kit or going to have a custom size and shape and what it will be made of? Most kits will be Square or Rectangular but they are now available in a wide variety of materials. These can have a big impact on the yearly maintenance and therefore enjoyment of your outside space. In most cases, a wood structure is going to offer you the most flexibility in terms of customization and the ability to adapt (add features such as a hammock, or shade cloth, etc) or repair the structure.
Pressure Treated Wood
If you are on a budget, basic pressure-treated wood from any big box store or lumber yard may seem to be the best choice. It is not the most beautiful to look at (may have yellow, blue or green tint from the treatment) but because it has been treated you can be sure of its suitability to your environment and its longevity. Not having to worry about insects eating your new showroom is important.
In most cases, people would choose to (and should) stain the wood with a preservative (ideally having waited +90 days for the wood pressure-treatment to dry completely) to ensure it lasts as long as possible; the pressure treatment doesn't protect the wood from the weather. This staining should be repeated every 2-4 years but the structure should be cleaned yearly.
Redwood or Cedar
In the USA these are the two most common woods used after pressure-treated. They are both naturally resistant to insects and rot and there colouring and visible grain structure make them both very appealing. If you want to maintain the natural color you may still need to apply a sealant as they will still go grey after a few years of outdoors exposure.
If not buying in kit form, however, sourcing these for construction can be difficult and expensive.
Tropical Hardwood
For the wood purist, the characteristics of tropical hardwoods will make them the ideal choice. They are exceptionally hard (often 3-4 x harder than Redwood or Cedar or Pressure-treated) and that makes them very stronger and more resilient. These include teak, ipe, mahogany and rosewood
The higher costs involved (3x more than in some cases) with these woods due to the very long growth time (100+ years per tree) and the environmental impact on sourcing them may make them unsuitable.
Modified / Composite Wood
This is the name given to sustainable wood that is treated with a non-toxic liquid to make the cells of the wood thicker and therefore stronger. The wood is then said to perform like a hardwood, where the natural grain can be seen and often no surface treatment is required.
Vinyl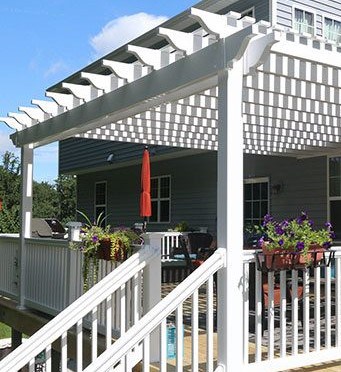 The biggest benefit of using Vinyl is the ease of maintenance, and when combined with the initial costs and no ongoing painting/staining costs makes these very popular. As a man-made plastic, it does not rot or corrode and can be enhanced with sun protection to stop the color from fading. They only tend to come in white or slight variations of white. It is comparatively lightweight, can be easy to install and only requires minimal maintenance; a wipe-clean or gentle pressure wash once a year can keep it looking great.
Vinyl will degrade with age and can become brittle after years of sun exposure. I have some vinyl barriers along one edge of our pool that have started to chip/crack and can feel a little 'powdery' to the touch. They also no longer wipe clean so easily after 12 years of duty.
Vinyl structures are usually sold as kits and therefore any customization is very limited. The nature of the material means it is not as strong as the other forms. Therefore the overall sizes available tend to be smaller and they are not suitable for adding hammocks or outdoor fans, etc. They are also less suited to areas that experience snowfall which may easily overload the structure.
Fibreglass
Like Vinyl the biggest benefit of Fibreglass is the ease of maintenance with only a wipe-clean or gentle pressure wash once a year required to keep it looking great. Fiberglass is, however, substantially stronger and the structure can have much greater spans than Vinyl or even similarly sized wood. It is very weather-resistant and will not corrode or rot and as it does not absorb water it can be painted very successfully without peeling for much longer periods than painted wood.
Fiberglass, although very flexible in its capabilities, when in kit form, any customization is limited. It is also one of the more expensive materials and may require longer lead times.
Metal – Aluminum / Steel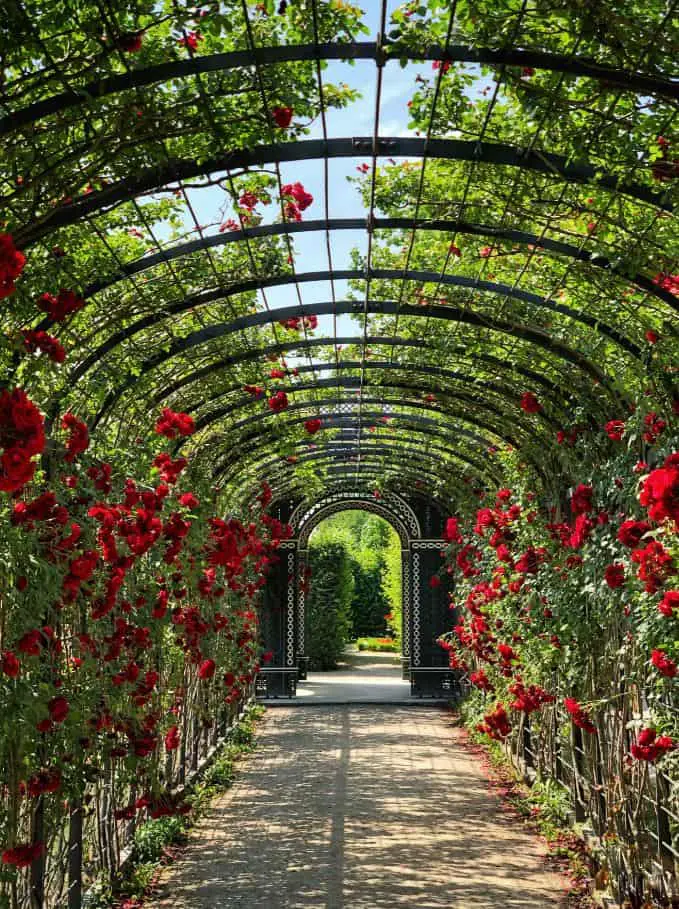 Metal Pergolas offer a very different feel as the size of the posts or crossbeams required for the strength of the structure are small. You do not get the same rustic feel as with solid wooden posts. This means, however, that they can span wide areas with less supporting structures. This also means that the structure does not really offer any shade but will require either a material cover (shade cloth or canvas) or more popularly have plants grown up and over to create the shade.
Both metals will corrode if not treated but by ensuring they are anodized (Aluminum) or galvanized (Steel), and/or painted or powder-coated, then they can last for long periods without needing anything more than a general annual clean. We currently have powder-coated aluminum safety fencing around our pool that has lasted well for 6 years with nothing more than a soapy sponge clean each year.
---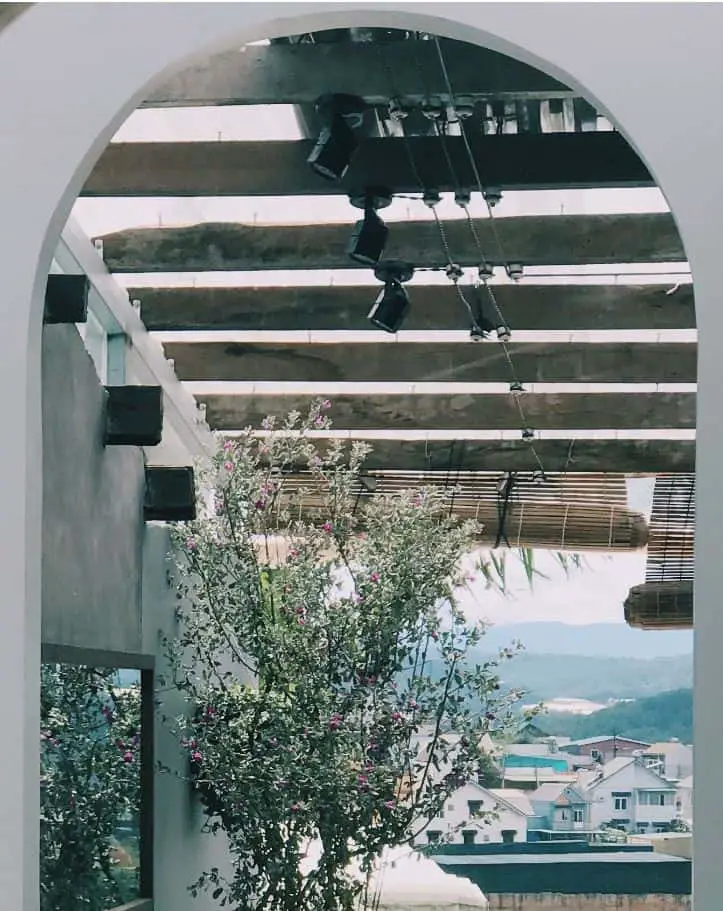 9. Remember the Additional Uses
Adding a Pergola can offer a greater opportunity than just the addition of shade. When considering your design it's worth considering any future plans eg for using a hammock or swing seat and the suitability of the structure to support them.
Other things you may also want to consider when choosing your building material and how you will attach to it:
side shade cloths
windbreaks
lighting
sound
---
10. Track the sun
Thinking where the sun will be when you are likely to use the pergola most can affect your design and layout. If you are planning for lazy outdoor meals at lunch on the south side of your house, the height and angle of the sun will be different than if you are thinking of reading a book in a hammock in the afternoon. Check out How do Pergolas Work for suggestions on orientating your structure.
---
The Don'ts?
11. Expect it to be waterproof
This is where the semantics of the name can be annoying. If its a pergola, then strictly by definition it does not have a solid roof. Instead, it has an airy open roof structure that allows hot air to rise and escape with ease. This also means that it will allow in rain. Rather than battling with dictionary definitions, there are various alternatives that can reduce the impact of the rain. These include material covers (mesh or fully waterproof canvas) or retractable covers that can be installed as part of the structure. If being rainproof is likely to be a deal-breaker then consider having a sloped pergola to aid rain runoff if you should add a waterproof cover later on.
---
12. Expect it to offer complete shade
In the same way that it will let rain through, a Pergola is not intended to offer 100% sunblock. There are numerous ways in which you can add shade by design or with additional features depending on your chosen 'look'. Check out Pergola Shade: Practical solutions for a guide to all the different shade options/suggestions.
---
13. Think it is Maintenance free.
Regardless of the construction material used there will always be an aspect of maintenance required. As explained above, if you choose your material and initial treatments appropriately this can be kept to a minimum.
---
14. Assume that everyone is a fan
Having seen a surge in popularity over the last few years, since being featured on numerous 'Home' TV shows, the benefits of Pergolas can be overrated when compared to other methods of creating shade. The look and feel of an 'outside room' may not be what everyone wants, particularly when the additional maintenance of an older uncared for structure is considered.
---
Check out Patio Shade; a Pro's and Con's Guide of the Best Ideas for alternatives.